The 39th Tokyo Motor Show 2005
2005.10.21-11.6 (at Makuhari)
Tokyo Motor Show Reaches 50-Year Mark
The 39th Tokyo Motor Show ran for a period of 17 days beginning Friday, October 21, marking the 50th anniversary since the 1st All-Japan Motor Show in 1954. It was held at the Makuhari Messe in Chiba City and a total of 1,512,100 visitors attended the show.

In line with the theme for this year's show, "'Driving Tomorrow!' from Tokyo," 79 World Premiers, as well as the world's most advanced environmental and safety technology, were presented at the show. Several special events were also prepared in celebration of the show's 50 years, such as a retrospective looking back at the 50-year history of the Tokyo Motor Show and a car exhibition displaying the classic cars from throughout the last half-century, in addition to a variety of "audience-participation, hands-on" special programs.

The show was extended four days to include three weekends (instead of the usual two). This made the weekends less crowded by spreading out the number of visitors evenly, allowing for a more enjoyable show.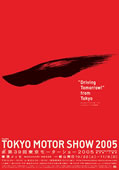 ---
---