Enjoy the exciting test-drive and test-ride events! Part II
2007.10.24
Hello, I am Yoshizawa from the Tokyo Motor Show office.
We the Tokyo Motor Show office staff, are now working at Makuhari Messe, where the motor show will be held, preparing for the motor show.
Today, I would like to introduce an unusual topic:
The Tokyo Motor Show is running on the JR Yamanote Line! That doesn't make any sense, does it? Actually, train cars with bodies decorated for the Tokyo Motor Show are running on the Yamanote Line from Sunday, October 14 to Sunday, November 11 as part of the 40th Tokyo Motor Show 2007 ad campaign. It might be your lucky day if you get on the Tokyo Motor Show train on your way to your office or school.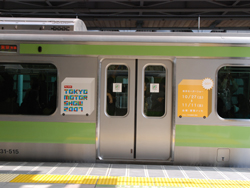 (There are two such trains.)