Tokyo's new motor show!
JAPAN MOBILITY SHOW 2023
to be held from October 26, 2023 at Tokyo Big Sight (main venue)
JNR-2022-007
November 18, 2022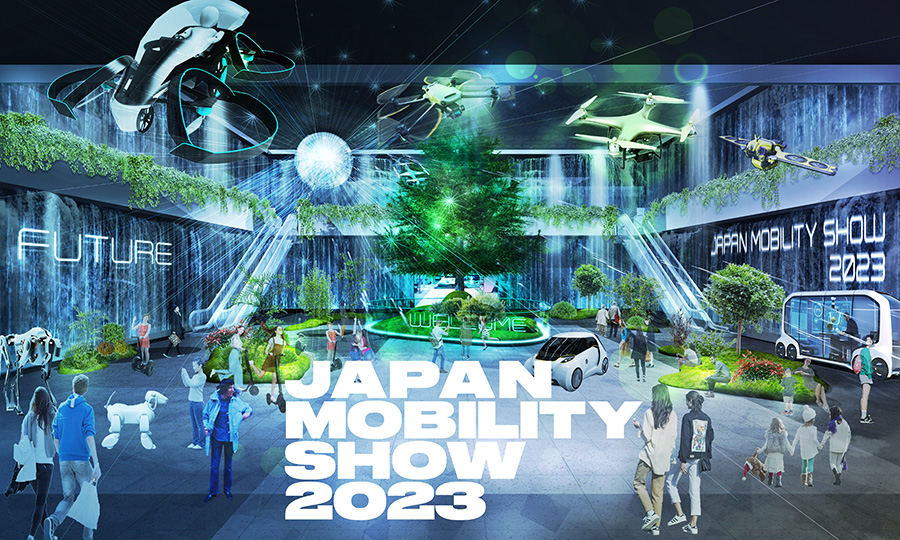 The Japan Automobile Manufacturers Association, Inc. (Chairman: Akio TOYODA) is pleased to announce that "JAPAN MOBILITY SHOW 2023," Tokyo's new motor show, will be held from October 26 (Thursday) through November 5 (Sunday), 2023, mainly at Tokyo Big Sight (occupying the entire venue) in the Ariake district of Tokyo's Koto-ku. In addition to automotive industry participants, we are looking for new partners—in startups and in other industries, whose activities extend beyond mobility as such—to join the show.
In view of this projected broader scope of participation, we are considering expanding the total area of the show to include multiple sites in Tokyo Waterfront City in the vicinity of Tokyo Big Sight (the main venue) in order to accommodate new exhibits, programs, and activities, so as to make the show experience optimally enjoyable for its anticipated 1 million visitors.
Exhibitor recruitment—from the auto industry (passenger cars, commercial vehicles, motorcycles, vehicle bodies, parts and machinery) and from next-generation mobility-related and other industries—will be ongoing from November 21, 2022 through January 31, 2023. Recruitment of additional exhibitors and participants for various special organizer-sponsored programs will start at a later date.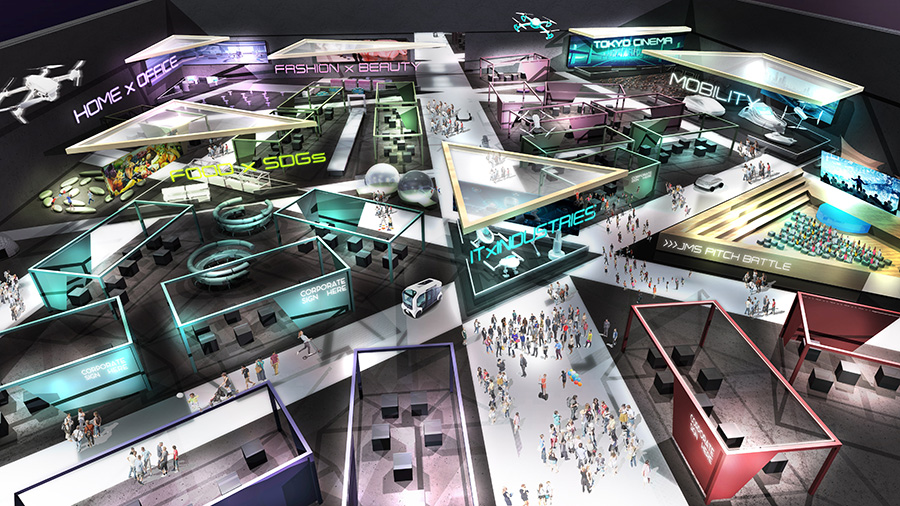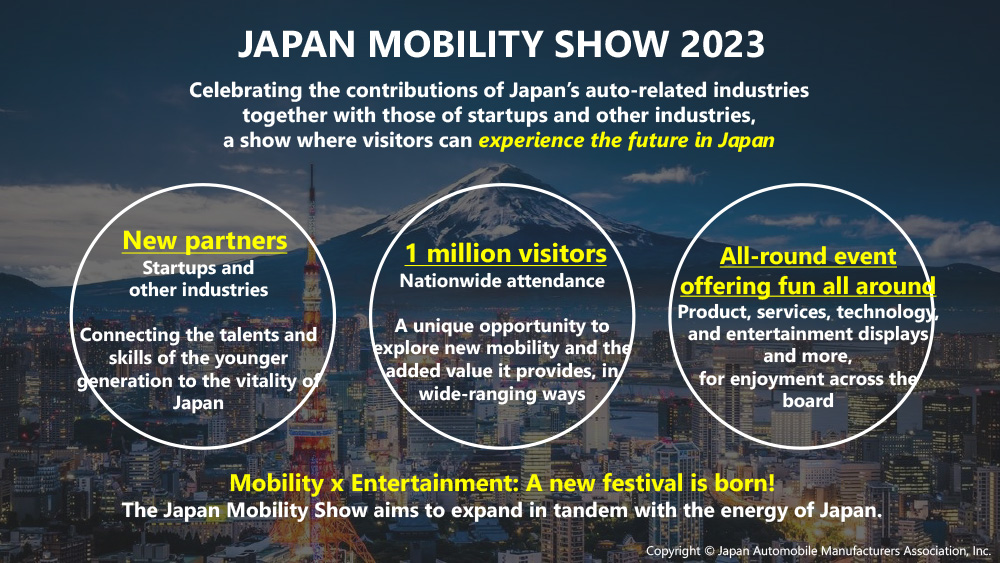 Summary Overview of the Event
Name of Event
JAPAN MOBILITY SHOW 2023
Organizer
Japan Automobile Manufacturers Association, Inc. (JAMA)
Dates and Hours Open
Dates
October 26 (Thu.) – November 5 (Sun.), 2023
Press Days
October 25 (Wed.)
08:00-18:00
October 26 (Thu.)
08:00-13:00
Official Ceremony Day


(Opening Ceremony attendance by invitation only)

October 26 (Thu.)
13:30-18:00
Special Invitation Day /


Special Invitation Day for Persons w/ Disabilities

October 27 (Fri.)
09:00-18:00
Preview Day
October 27 (Fri.)
12:30-18:00
General Public Days
(Mon.-Sat. & Holiday)
October 28 (Sat.),
October 30 (Mon.)-November 4 (Sat.)
*09:00-19:00
(Sun.)
October 29 (Sun.), November 5 (Sun.)
*09:00-18:00
Main Venue
Tokyo Big Sight (entire site: East/West/South Exhibition Halls)
*On General Public Days from 9:00 to 10:00, admission will be reserved for holders of special tickets (information on ticket categories not yet available at time of this release).